A faceless streamer at v2, composed of 50% chocolate and 50% coding-sorcery. Generally overworked by choice.
Ex-illustrator and animator, is fluent in Java, C, C++, C#, Python, VB, Unix Shell Scripting, Javascript, XHTML/HTML, CSS, PHP, Perl, CGI, SQL, Ruby, XML, ASP, and possibly Klingon. (citation needed)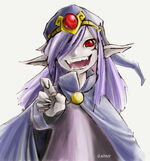 "LOOK AT ME IM VAATI, IM TOO COOL FOR SOCIAL NETWORKING AND I'LL NEVER HAVE A FACEBOOK SO I CAN ADD MY BEST FRIEND NARUZAP ON IT."
Ad blocker interference detected!
Wikia is a free-to-use site that makes money from advertising. We have a modified experience for viewers using ad blockers

Wikia is not accessible if you've made further modifications. Remove the custom ad blocker rule(s) and the page will load as expected.