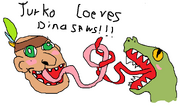 Turko is the retarded brother of Turok, born by a simple mispelling of Turok (Courtesy of Advice_Owl) during
The Admiral
's Hogs of War Stream in Summer 2010. Since then, he often gets mentioned whenever retards and/or Dinosaurs or other prehistoric animals are either mentioned or shown on VidyaVidya.
Turkos main features
Edit
LOEVING DINASAWS
SHOOTING BIG PEWPEWS
HAETING RAWBUTS AND ALINES
TOO MUCH THINKING MAKES TURKOS HEAD HURT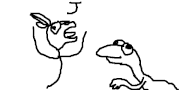 coming soon
Ad blocker interference detected!
Wikia is a free-to-use site that makes money from advertising. We have a modified experience for viewers using ad blockers

Wikia is not accessible if you've made further modifications. Remove the custom ad blocker rule(s) and the page will load as expected.