Together We Ride
Edit
In very rare and auspicious occasions, one streamer gathers all of the rabid viewers together. Together, they form under the banner of Cats and marches out into the Mojave Wasteland, to conquer all before them.
Nyahve, true to T3tsu.
The Moment(s) it happens
Edit
The day everyone agreed took place at 8/5/2012 4:01 PM EST When the cosmos aligned or some such and everyone agreed on the option of 3, sexxing the nurse. This is the first event, another similar even happened at 4:16 PM EST. When everyone, excluding Bern, because he's an ass, agreed.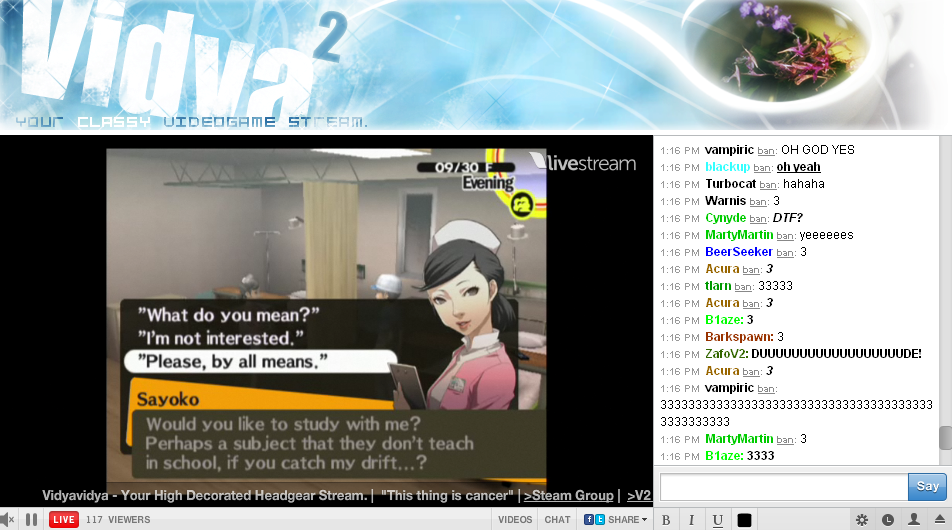 A second event like this took place at 11/08/2012 6:14 PM EST, when everyone, LITERALLY everyone, agreed. The event V2 agreed on was the choice to make the main character in Persona 4 answer if he signed himself up for the 'miss' pageant to which chat voted that T3tsuya should state that he DID infact sign himself up for the pageant. The same day as the previously stated but 7 minutes later at 6:21 PM EST where everyone agreed that they would rather bang Teddie, over Hanako (the morbidly morbid obese Nanako).
Ad blocker interference detected!
Wikia is a free-to-use site that makes money from advertising. We have a modified experience for viewers using ad blockers

Wikia is not accessible if you've made further modifications. Remove the custom ad blocker rule(s) and the page will load as expected.