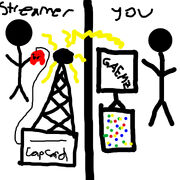 Streaming at vidyavidya is simply uploading the video/audio of a video game and playing it in front of a live audience. Narration is typically required. The goal of streaming is to entertain the viewers, not necessarily beat the game, as evidenced by every streamer here. Those that fail to entertain are fired by the glorious m00sician.



Ad blocker interference detected!
Wikia is a free-to-use site that makes money from advertising. We have a modified experience for viewers using ad blockers

Wikia is not accessible if you've made further modifications. Remove the custom ad blocker rule(s) and the page will load as expected.