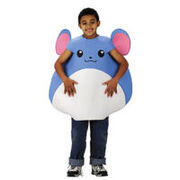 History
PikabIu began life watching vidyavidya around May 2009 under a different name but he has forgotten what that was, possibly "Spamtaro". When livestream implemented the much needed login service, he picked the name "PikabIu" and has looked back in regret ever since.
PikabIu never did much aside from the occasional incoherent message in chat until September 2010 when he went out and bought himself an "EzCAP" and submited his application to become a streamer. He failed during the V² pop idol contest where he streamed Tenchu: Warth of Heaven, but was trolled by his PC microphone settings which defaulted to 0 volume. He was later hired after asking m00 very nicely if he could work the neglected morning slots. There is speculation that he was only hired to keep the British Triforce of Streamers in balance, however.
General Information
This streamer can be seen around morning EST times streaming console games and affectionately talking like a robot.
A true Australian patriot according to Nautilus
Ad blocker interference detected!
Wikia is a free-to-use site that makes money from advertising. We have a modified experience for viewers using ad blockers

Wikia is not accessible if you've made further modifications. Remove the custom ad blocker rule(s) and the page will load as expected.