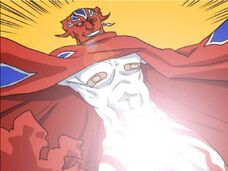 The Man, The Zombie, The Rubicante:
A cheery fellow who was watching V2 under a nickname of HolyZombieJesus back in the early 2009. Everything changed after "Ye Old V2 Classic" intermission called Four Fiends Of The Elements. Being thoroughly impressed by the shine from under Rubicante's mantle, changed his name to HolyZombieRubicante and haven't looked back since.
Fun Facts:
Russian MASTER SLAVIC RACE, like NaruZap
Lives in Estonia (a little place below finland, can't miss it)
One of the PURPLE MASTER RACE
Doesn't look like Unabomber, as per suggesion of V2 viewer AdviceOwl
Improved his co-op skills but still blames his high latency (truth be told, it is rather high at times)

Remarkable Chat-ups: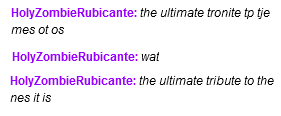 Ad blocker interference detected!
Wikia is a free-to-use site that makes money from advertising. We have a modified experience for viewers using ad blockers

Wikia is not accessible if you've made further modifications. Remove the custom ad blocker rule(s) and the page will load as expected.