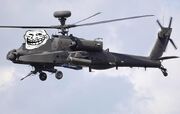 A witty viewer(or so he thinks) who makes witty remarks that started going on v2 around April 24th 2010. Since then he has been a frequent viewer. He probably will not like you, unless you're not retarded/annoying or have bad grammar/spelling. :llllllllll
Fun Facts:
-Member of the PPPPURPLE MASTER RACE
-Doesn't affraid of anything
-Member of the Grammar Poleez
-Multilingual
-Hatershating.jpg
Ad blocker interference detected!
Wikia is a free-to-use site that makes money from advertising. We have a modified experience for viewers using ad blockers

Wikia is not accessible if you've made further modifications. Remove the custom ad blocker rule(s) and the page will load as expected.